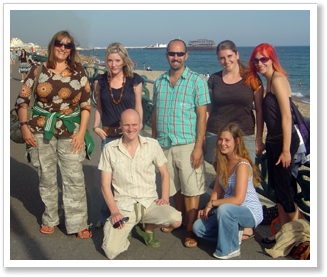 About South Africa Travel Plan
South Africa Travel Plan is a small specialist internet based tour operator, offering you a unique way of travelling around the country. Travel exactly how you want to, when you want to. Our South Africa travel specialists will help you build your own trip, handing you complete control of your holiday. We pride ourselves on providing excellent service levels which continue throughout the life of your booking. 

South Africa Travel Plan is part of Rickshaw Travel, an online adventure tour operator made by travellers for travellers. It is born out of the idea that there are hardly any independent travel options available for more adventurous travellers. 

We're able to use small-scale, authentic accommodation with local character and warm welcomes. With Rickshaw Travel, you won't find large group coach tours but instead you'll travel by trains, buses, private car, planes, and the occasional minibus. Flexibility and independence are fundamental, which is why we organise as much or as little as our clients wish.

We also like to give something back to local communities, which is why we sponsor various charity projects. See our responsible travel page for more information.

We're able to keep our prices low because we don't produce flashy brochures or run luxury shops. However you're more than welcome to visit our South Africa travel specialists during your travel planning! We are based in Brighton, on the South Coast and we're the sister company of round the world specialists, Travel Nation.
Your financial protection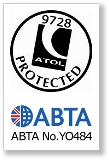 South Africa Travel Plan is part of Rickshaw Travel Ltd which is a fully licensed and bonded tour operator.
We hold an Air Travel Organisers License (ATOL number 9728) issued by the Civil Aviation Authority (CAA). This means that in the unlikely event of our insolvency, any holiday arrangements made with us in conjunction with flights from the U.K. are 100% protected.
In addition we are also members of ABTA (ABTA number Y0484). This means that in the unlikely event of our insolvency, any land only trips are 100% protected(i.e. where international flights haven't been booked through us).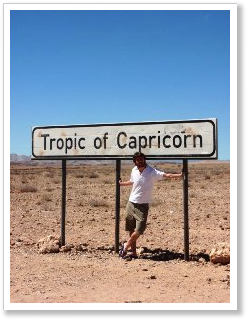 Kieran Maartens
South Africa Travel Specialist
I grew up in South Africa, spending the first twelve years of my life there. Since leaving I have been back many times, visiting different areas of the country. The last time I went back I travelled from Cape Town along the Garden Route to the Tsitsikamma National Park, a wildlife refuge on the Indian Ocean. Highlights include crossing the swaying suspension bridge spanning 'Storms River' mouth, taking a walk west along the coast to see the waterfall that cascades into the sea, and swimming in the lagoon in Nature's Valley. In Cape Town, I found time to visit Boulders Beach, home of the infamous penguins. I also climbed Table Mountain, especially advisable on a cloudless day (when there is no 'Table Cloth'), as the view from the top is unparalleled.
I left the Kruger seriously considering a career as a Park Ranger! During just one trip, a curious giraffe stuck its nose in the bus window, we were briefly interrupted by a boisterous troop of baboons, and we watched in awe as a herd of elephants crossed the plains. A world in one country? It certainly seems so to me, I could never visit it enough, there are so many varied to experiences to be had. The unique music, the tasty boerewors, the sounds of the bush, and some of the friendliest people I have ever met. All I will miss until the next time!
Bryony Holland
South Africa Travel Specialist
South Africa is an amazing country and the ultimate destination for a road trip. It really does have everything – beaches, bushland, mountains, deserts, and (last but not least) winelands. It took me a good few Savanna ciders before I would get into the cable car to the top of Table Mountain – but it was worth it a thousand times over. The wildlife in South Africa is also out of this world. In the space of one trip, you can see the Big Five, ostriches, penguins, rare turtles, whales and even dolphins playing in the surf. The weather is beautiful, the people are friendly, and the food is fantastic (make sure you fit in a few braais on the road…). I spent a couple of months in KwaZulu Natal, and then drove down to the Wild Coast and along Route 62 to Cape Town (watch out for Ronnie's Sex Shop in the Karoo desert!). Then, a couple of years later, my sister and I drove from Cape Town along the Garden Route before flying up to Kruger. Before joining Rickshaw Travel, I worked for a specialist tour operator, organising safaris in South Africa. There's nothing like life on the open road. Just hop in you rental car, strap in, stockpile the snacks, and drive…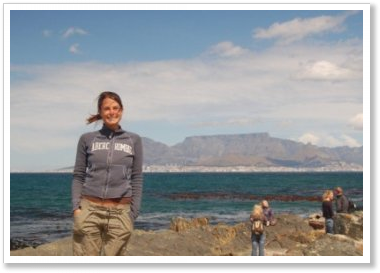 Laura Clark
South Africa Travel Specialist
South Africa really does have it all, and can be blamed as the root cause of my obsession with Africa. Back in 2006 I spent 10 weeks volunteering on a private game reserve in Limpopo (coincidently the same one we offer as part of our Tented Safari Lodge module) and had the time of my life. Nothing compares with waking up to the sounds of the bush and spending your days on the back of a 4×4 tracking wildlife, then spending the evening under a beautiful starry sky, blazing fire, steak on the braai and savannah cider in hand. We were lucky enough to do that every day and it never got boring for me. Beyond its amazing wildlife parks, South Africa also boasts some beautiful beaches, and of course the world famous surf of Jeffreys Bay. One tip though, those waves really aren't for amateurs. I got wiped out so many times I'm still finding sand in my ears.
Haydn Wrath
Manager
South Africa Travel Plan is run by Haydn Wrath.
I left the University of East Anglia in 1984 and escaped what seemed a very grim England by spending the rest of the 1980s travelling and working round the world. During this time I put in some usual stints as an English teacher in Tokyo, a landscape gardener in Sydney and a tarmac layer's assistant in Alaska. In 1990, I joined Bridge the World Travel Centre in London as manager of the World-wide department, where I was able to put my degree in Politics and Philosophy to good use!
Rickshaw Travel
Rickshaw Travel is the holding company for South Africa Travel Plan, and also operates in a number of other countries. Our range of travel destinations is continuously growing. At the moment we offer pre-arranged independent travel options in the following destinations:
Asia:
Thailand Travel Plan
Vietnam Travel Plan
Cambodia Travel Plan
Laos Travel Plan
China Travel Plan
India Travel Plan
Nepal Travel Plan
Indonesia Travel Plan
Malaysia Travel Plan
Africa:
Kenya Travel Plan
Morocco Travel Plan
Egypt Travel Plan
Americas:
Mexico Travel Plan
Peru Travel Plan
Cuba Travel Plan
Argentina Travel Plan
Oceania:
Australia Travel Plan
South Africa Travel Plan: Work for usSouth Africa Travel Plan is part of Rickshaw Travel a fast growing internet based travel company. We're on the look out for customer-focused people who have an in depth knowledge of Southern Africa, and the other countries in which we work.

We work in a busy and friendly environment in Brighton, where you will be encouraged to develop your product knowledge and service skills to their full potential. If you are interested in joining our team, please send a covering letter and an up to date CV to mailto: [email protected]

Privacy Policy
We will not collect personal information without your knowledge and permission.
We will not knowingly disclose your personal information to third parties.
We will allow you to view, correct or remove your personal Information and we will take reasonable steps to protect the security of the personal information we collect from you.