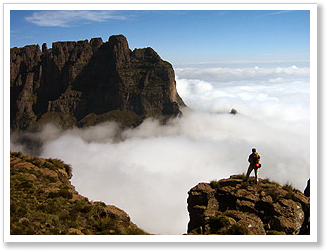 Customer Feedback
South Africa travel reviews from our customers
Since the launch of South African Travel Plan, we have sent many customers to South Africa who have come home full of stories and smiles. You'll find some of their comments below. We value customer feedback very highly at South Africa Travel Plan, as it is a vital means of making sure that our standards are maintained.
We've broken down the feedback into sections so that you can see comments specific to each separate module that we offer. We hope after reading these South Africa travel reviews it will inspire and help you with the planning of your own trip.
General Customer Comments
Had an absolutely wonderful holiday that we will always remember, it far exceeded our expectations. We had so many new experiences and learned so much about South Africa and its people. They were very welcoming and friendly wherever we went and could not do enough for us. Thank you for arranging such a memorable holiday. Bill, Tony, Gina & Roberta
We're very glad we didn't go on a group trip like we initially planned. The accommodation was excellent, lots of variety and worthy of praise every time. Everything was perfectly organised, bungalows etc. were clean and tidy, the trip offered plenty of variety and was spectacular. So all in all, thanks to you we had an unforgettable South-Africa experience and this definitely won't be our last visit. Karin
Such a shame our trip has ended. We had a wonderful time and everything was perfectly organised. Thanks!!! Herbert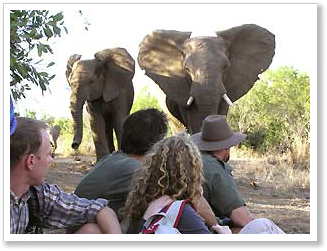 The holiday exceeded our expectation. The range and mix of things that had been included in our itinerary meant that we had so many different experiences. It's impossible to pick out one favourite. Seeing the elephants in Edeni was special but then seeing the hippos near St Lucia where we'd not expected to see them was also special. Alison

We're so pleased about the trip you put together for us. The accommodation was excellent every time (we especially loved the tented accommodation), the people were friendly and very helpful and the food was good as well. Thanks for the excellent service on your part! Esther
Our holiday was a huge success. South Africa is a beautiful country, wonderful scenery, friendly people, lots of wildlife, good food and as long as you know what you're doing and where you're going, it's not a dangerous country (unlike what people think). Edward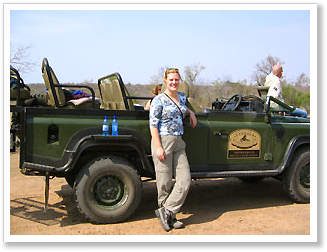 Tented Safari Lodge (Kruger National Park)
The bushcamp was fantastic! We got such a warm welcome and were totally pampered during our stay there. Because it was so quiet they were able to give us all their attention. We went on 4 (!) game drives and saw all the animals (more like the big 25 rather than big 5). We promised Pierre and Liesl we'd tell you about it. The staff was friendly in all the B&Bs we stayed in, but this one was exceptionally good. Alexander

Bushcamp – in one word: perfect! What a great location, fantastic staff! We were one hour late for the evening safari. Owner drove us to the truck. Hazyview – Friendly, nicely decorated lodge. Potluck dinner (no menu) turned out to be delicious. Michael
The tented lodge was yet another amazing experience. Sleeping in a tent surrounded by wildlife, game drives, an elephant who insisted on joining us for lunch inside the enclosure, heading into the bush on foot to see 2 cheetahs just 5 metres away from us, everything we saw and did was fantastic. The fact that we were woken up at 5.30am every morning to head out for a drive didn't bother us one bit, on the contrary! Words can't describe these amazing four days! Marc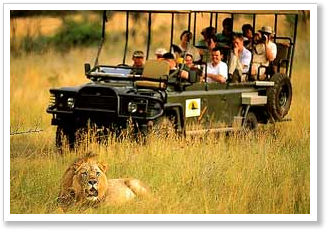 Rondavels in Kruger
I didn't get round to letting you know how fantastic and unforgettable our trip was. Definitely one of our best holidays! Our favourite was the stay in the tented lodge right at the beginning of our trip. The tented lodges, though bitterly cold at night, and the spectacular game drives were amazing. That goes for the whole trip in fact, a beautiful route, with thankfully a couple of longer multi-day stops so we could recharge our batteries, very friendly and clean & tidy lodges and lots of variety. Ida
The accommodation south of Kruger was fantastic! I can still see myself sitting in the twilight watching the hippos in the water below roaring and splashing around. Or the elephant casually uprooting a tree right at our feet…. Monique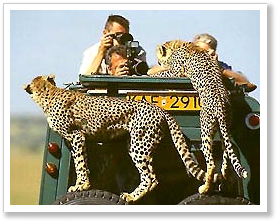 Exclusive Kruger Game Drives
We had two fantastic days at the game lodge in the Timbavati Reserve. I can certainly recommend it to anyone going to South Africa. It seems like we did more game drives than we actually paid for. We did three game drives (could have been four if we hadn't taken a wrong turn first) even though I think we were only allowed one game drive per day. All in all we saw and did a lot, besides the game drives also went on a bush walk. Alan

Your directions were excellent and after 11km down a dirt road (what a dreadful road!) we arrive at the gate. We've already seen our first giraffes by the time we get there ;-0. We really didn't know what to expect but it was FANTASTIC. To think that you can sleep in a camp where wild animals roam outside your hut at night… very cool but a bit scary as well. Didn't sleep too well the first night with all the strange noises outside… There's no electricity and the oil lamps really added to the atmosphere. The reed huts were great and the shower was wonderful. It really is 5-star in the bush. The food was DELICIOUS (they had just won an award for best Bush Camp food). Catherine and Ronald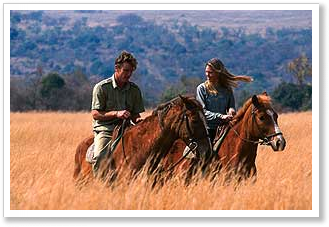 Beehive Huts and St Lucia
In Swaziland we visited Mlilwane Wildlife Sanctuary where we slept in a beehive, which was great fun. We went on two trips here. We didn't see any spectacular wildlife because there's only antelope, zebra and wildebeest here, but the scenery is beautiful. From Swaziland we went to Hluhluwe where we spent a day in the Hluhluwe Umfolozi Park and a day in St Lucia Greater Wetlands. We saw lots of animals here as well. Alan and Natalie.

Apparently we were pretty lucky spotting wildlife, we always saw more than the people we spoke to on the way. We even saw lion cubs (at 6am in Hluhluwe-Umfolozi, what a beautiful park!), which is pretty unique. Karen.

St Lucia – Amazing! What a great breakfast and what a lovely host. 3 days was perfect, with a comfortable double bed and a king-size bed. We can definitely recommend it. Mike and Maria.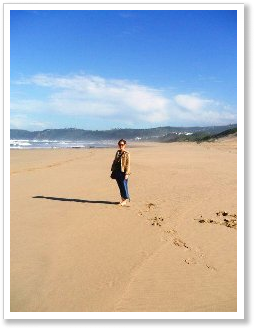 Garden Route Adventure Trail
The road to Oudtshoorn is just beautiful and the accommodation felt like a different world altogether when we walked in. Great food by the way! Ostrich riding is an unusual experience to say the least. The stay in Knysna was okay, but the trips were more than worth it. We also had the only day of rain in our 3-week trip when we were here. The rest of it was just sun, sun, sun…
If we were ever to go back we'd suggest staying in the Tsitsikamma National Park. Looking out across the ocean from your tent or bungalow seems pretty amazing. Mark.

Oudtshoorn – What great staff! What a breakfast! What a room! What a view! Just perfect. Michael and Maria.
From Plettenberg bay we travelled to Oudtshoorn and visited an ostrich farm. Went to the Cango caves of course, and made a trip through the Karoo. All very beautiful. From Oudtshoorn drove to Hermanus via Mosselbay. Went on a shark dive here, which was great too. Saw lots of sharks, from the boat as well as from the water. Alan and Natalie.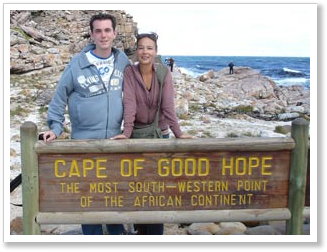 Discover the Cape
In Hout Bay near Cape Town, we went on a township tour. We didn't think much of it beforehand (too touristy) but at the end of the tour we were eager to learn more about how the black South Africans live. We just called a number we saw posted along the side of the road but apparently you can also book through the Information office. Inez and Monica.
The guesthouse was in a perfect central location with perfect staff and wonderful rooms and garden. Definitely recommend it for a stay in Cape Town. Michael and Maria.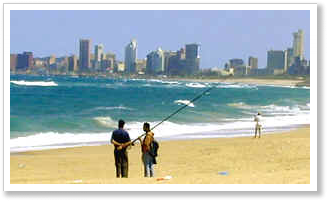 Durban – Umhlanga and Ballito
Umhlanga was somewhat of a culture shock after all that time in the bush, but it made an interesting change and made you aware of the differences in this country.We wouldn't have wanted to miss it, and the beach and surf was fantastic. Karen.
Huge room with two adorable hosts. Great location, just 5 metres from the ocean's edge. The owner invited us to join them for dinner. It was delicious and what wonderful hospitality. Could have spent another day here. Michael and Maria.