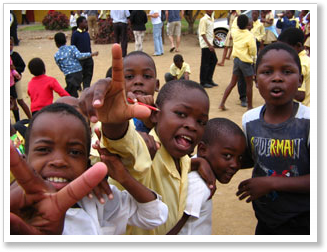 Khula Zulu Village
Only several kilometres away from tourist destination St. Lucia lies the KwaZulu Natal countryside. Most travellers pay attention to the flora, fauna and parks, but don't really see how the local population lives.
South Africa Travel Plan sponsors the local school and pre-schools in the Khula Zulu village. While staying in St. Lucia, you'll have an opportunity to visit this village. Visiting the village is a real eye-opener, it'll show you that the effects of apartheid are far from erased from today's Africa.
There are several thousand Zulu's that live off of the profits made off of small plots of land in Khula and other Zulu villages in the St. Lucia area. Most are descendents of the Duku-Duku. These Zulu's were instructed by the past king, Shaka Zulu, to learn how to make metal weapons for the king's army from the Portuguese. After many years of war and political developments, these Zulu's made their home in the village of Khula. With little or no support from state or province their chief ('Inkosi' in Zulu language) Mnumzane Mkhwanazi attempts to improve the quality of life for his people.
From our accommodation in St. Lucia, you can take an escorted visit to the village every morning. This is not a tourist excursion and you'll be requested to take on the role of a guest in the village. In the Zulu village and in the fields surrounding the village, you'll see how people live, you'll see their basic stores, cafés (shebeens), churches and you'll visit their medicine man (Sangoma). You'll also be able to visit the local school or daycare, where children are taught with minimal provisions.
In 2003 South Africa Travel Plan adopted a secondary school and in 2004 two kindergarden schools in the village were adopted. If you are interested in supporting these projects, please deposit an extra consideration in support of these beautiful people and their village when making payment for your booking. Any amount is extremely welcome.
With the proceeds from these extra considerations all indoor provisions for the two kindergarten schools have been paid. Bertus, our local contact, purchased items suggested by teachers at the school such as a refrigerator, carpets, ovens, doors (which were not present before), pens, washing materials and toys.
If you would like to visit the schools, the children would truly appreciate a small gift such as balloons or other small gifts for kindergarden-aged children. Keep in mind that these classes are considerably full of children. In comparision to children in our country these children live in poverty and are very grateful for your attention and small unexpected gifts.