South Africa Travel Insurance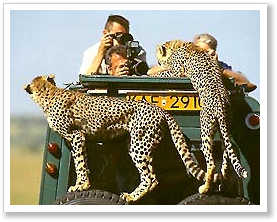 Organising your travel insurance can be a mind-boggling exercise, and let's face it, certainly nowhere as much fun as booking your holiday. But it is absolutely essential that you arrange some sort of insurance to cover your trip.
Something going wrong with your holiday is not a nice thought which we completely understand, but the alternatives are much worse, such as being out of pocket because you have to cancel your trip prior to departure due to illness. Even worse having to personally make all the arrangements in the event of a medical or similar situation in a foreign country/language as well as paying all the costs yourself is not a nice thought. Travel insurance covers you for a whole host of things, that will make your life (and your pocket) so much easier if something were to go wrong before, or after your departure.
Rickshaw Travel have teamed up with the award winning travel insurance specialists 'Insure and Go' to bring you great value, high quality travel insurance cover.
Major Benefits
• Up to three under 18s included FREE per adult on our single trip travel insurance.
• Insure & Go single trip travel insurance offers free cover on over 40 adventure activities, from scuba diving to white water rafting, offering
additional peace of mind.

• A 24 hour emergency helpline, available 365 days a year.
• An Insure and Go policy card – unique to InsureandGo customers, it's the convenient way to take your policy details away with you.

• Best Travel Insurance Provider + Most Trusted Travel Insurance Provider – Moneywise Customer Service Awards 2009
If you decide not to purchase this insurance, please send us details of your alternative policy (insurer and your policy number).
Click here to book your Travel Insurance online with Insure and Go
Why get the Travel Insurance?
We consider adequate travel insurance to be essential for your trip. It is your responsibility to purchase an appropriate level of cover which provides sufficient cover to meet your personal requirements. We think the most important areas to cover are: –
Cancellation/Curtailment – Provides cover for flights and accommodation and excursions, tours and activities that have been pre-paid and cannot get refunded if you cancel your trip prior to departure, or cut short your holiday. NB. Within 1 month of departure your trip is non-refundable.
Medical expenses (including repatriation by air if necessary) – Provides cover for costs arising in the event of illness, injury or death during the trip and where necessary the provision of emergency medical assistance.
Loss or damage of personal possessions – Provides cover for your own personal luggage and valuables if they are lost, stolen or damaged during your trip. You will be expected to provide evidence of ownership and value (such as receipts) in the event of a claim, and have a local police report.
Adventure activities – Whilst Insure and Go automatically include up to 40 adventure activities on their single trip and annual insurances, please check their website for further details.
Many other sections such as personal liability (if you injury someone), money loss (robbery), catastrophe cover, personal accident (compensation if you die, or are permently disabled abroad). Click here to book your travel insurance online